Prescription Ordering Direct
You can order your repeat prescriptions by phone. Call the POD (Prescription Ordering Direct) on 033 33 583 509 Monday to Friday between 08:00 and 17:00 when you have 7 days left of your medication.
Please don't be put off if you find yourself a long way down in the queue, there are up to twenty five caller handers taking incoming calls at one time. A member of staff visited the POD to see how they worked. They also have a pharmacist onsite for any queries.
If you need to order your contraceptive pill or HRT you can still contact the medical centre by phoning 01299 270209.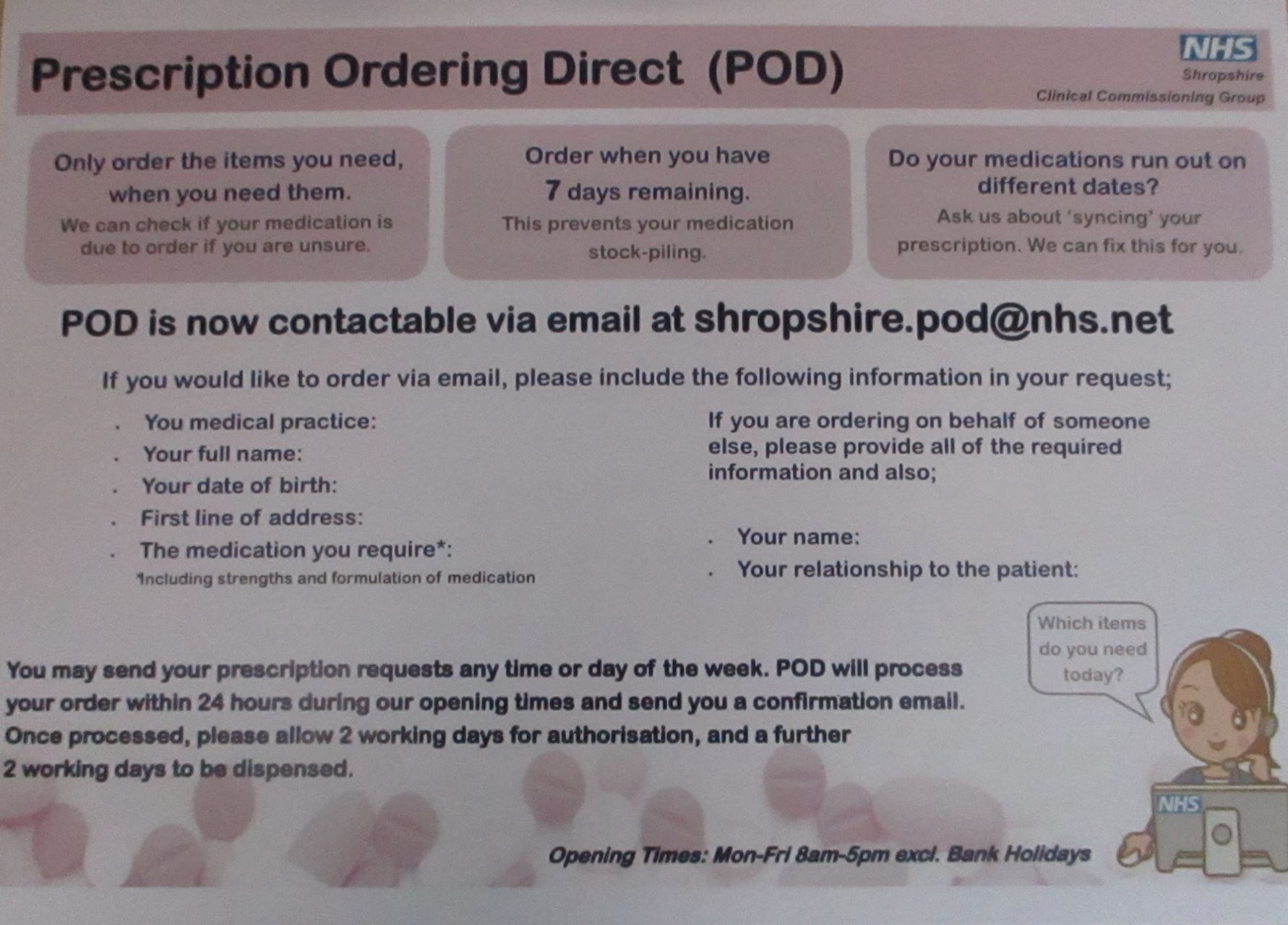 Repeat prescriptions can also be ordered in writing. You may drop your repeat form into reception or our letter box at the font of the building. You can send it in a letter by post.
The NHS App is a more convenient way to order your medication online and have access to your medical records. Simply download the App via this link The NHS App and set up your account from home. There is no need to contact the surgery.
You can also register for Patient Access to allow you to order your medication online via the link at the top of this page. If you would like to register for this service please fill out the application form below and bring the completed form to reception with photographic ID. Included in this service you can also book appointments online, in advance with the doctor of your choice and view your medical record.
If you encounter problems ordering your prescription online Use the Patient Access Support Centre before you call us.
Please allow 3 full working days for delivery of prescriptions to the chemist, plus time for dispensing. Please make sure scripts are with us by 10:00 on a Friday otherwise they will not get processed until Monday morning.
Not Registered for Online Services?
Prescription Fees
Help with NHS costs
In England, around 90% of prescription items are dispensed free. This includes exemptions from charging for those on low incomes, such as:
those on specific benefits or through the NHS Low Income Scheme
those who are age exempt
those with certain medical conditions
More information is available at NHS Choices
NHS Charges
These charges apply in England only. In Northern Ireland, Scotland and Wales prescriptions are free of charge.
Prescription (per item): £9.35
12-month prepayment certificate (PPC): £108.10
3-month PPC: £30.25
If you will have to pay for four or more prescription items in three months or more than 14 items in 12 months, you may find it cheaper to buy a PPC.
Telephone advice and order line 0845 850 0030
General Public - Buy or Renew a PPC On-line
There is further information about prescription exemptions and fees on the NHS website.
Home Delivery Service
Home delivery service is available for patients who find it difficult to come to the surgery or other collection points to collect their medication.
Both Cleobury and Highley Pharmacies offer a delivery service, please contact the pharmacy for more information.
Cleobury Pharmacy: 01299 270219
Highley Pharmacy: 01746 861255
Medication Reviews
Patients on repeat medication still need to be seen at regular intervals. Your repeat prescription tear off form will tell you when you need to book in for a follow up appointment.
Please give as much notice as possible when making these appointments to enable you to see your usual doctor.
Waste Medicine
Thousands of pounds are wasted each year by patients requesting medication they do not need.
Please help us to minimise the cost of waste medicine by only ordering what you need.